Early or late summer
02.06.2017 - 07.07.2017
26.08.2017 - 30.09.2017
Apartment for 2 people
from 64 € per day
Apartment for 3 people
from 84 € per day
Apartment for 4 people
from 110 € per day
Apartment for 5 people
from 130 € per day
Summer
08.07.2017 - 25.08.2017
Apartment for 2 people
from 67 € per day
Apartment for 3 people
from 87 € per day
Apartment for 4 people
from 115 € per day
Apartment for 5 people
from 135 € per day
Prices per day and apartment without meals (in Euro).
Additional costs for:
1,70 € Ortstaxe per person (from 16 years) and night
40,00 € – 45,00 € cleaning
Charge for half-board per adult 11,00 € per day
Charge for half-board per child (till the age of 13,9) 8,00 € per day
Included in the price:
free use of our wellness and spa area
free WiFi
free bike rental in our hotel
If you book your summer holiday in our hotel you get the Nassfeld
+CARD holiday
for free.
Your find more information about the Nassfeld
+CARD holiday
here
.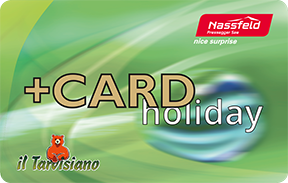 Terms and Conditions
For early departure or late arrival you will be charged the price for the room, which is 70% of the total sum.
The terms and conditions of hotel business are valid. You get detailed information via the following link.
Travel cancellation insurance
Since it is not possible to predict the future, you should take necessary precautions by purchasing your travel insurance.  
Here
you find all the details.